If you're wondering what to make with tortillas, this article will help. Here is a list of 15 recipes with tortillas that you will love after finishing this article.
See Now Cooking Appliances & Cookbooks!
1. Enfrijoladas recipes
I believe this is one of the simplest dishes to make with corn tortillas. It's easy to prepare once you've gathered all of the ingredients. The key ingredient in this recipe is obviously black beans; they must be savory enough to spread all over folded tortillas and watery enough to wet the tortillas.
2. Chicken chimichanga recipe
This dish is wrapped in a flour tortilla and filled with shredded chicken, fried beans, and cheese. You can also serve it with a salad of tomatoes, lettuce, and onion. Chimichangas are delicious with a touch of cream and, of course, a sauce for a little extra flour. This is a tasty meal that you can make with tortillas, and you can use whatever filling you want. Depending on your preferences, stuff with veggies, chicken, beans, pork, or beef, but this time we bring you chicken chimichanga.
3. Entomatadas recipe
Entomatadas are made in the same way as enfrijoladas. If you don't have beans, no worries; I'm sure you have everything else you need to make entomatadas. This recipe calls for tomatoes, onion, garlic, jalapeo peppers, and salt, as the name suggests. This is a simple way to make good use of a spicy tomato sauce. If you didn't already know, this is a traditional Mexican dish that is highly recommended. You can also add extra ingredients to suit your taste.
4. Tortilla pizza
This iconic dish pairs well with a variety of ingredients, one of which is tortillas. If you like thin pizza with a great crust, tortillas are a great option. The remaining ingredients are up to you. Making tortilla pizza will be a hit on your menu.
5. Cream cheese tortilla bites
This is an excellent choice for an appetizer. It's so easy to make with only four ingredients: cream cheese, butter, tortillas, and seasonings. Let's make these bites for a party that everyone will enjoy. Make a different type of food to avoid boredom and to broaden your daily menu. If you're hungry while watching TV, eat each small roll of tortilla.
6. Chicken tortilla soup
A delicious soup that calls for tortilla chips, chicken, and vegetables. Prepare your pot and follow this recipe exactly. It's a delicious and healthy soup that's perfect for feeding your entire family. The flavor of this dish is fantastic if you use fresh vegetables and add chicken broth. Even adults and children will enjoy it so much at home that they will want to do it again.
7. Apple pie enchiladas
You've probably seen enchiladas recipes before, but this time they're sweet rather than spicy or salty. This is an excellent opportunity to experiment with a new appetizer or breakfast. I'm guessing you'll enjoy it. This easy dessert with tortillas is more than just enchiladas. You only need 5 ingredients, and then roll up each tortilla and bake it.
8. Breakfast quesadillas
Don't waste time making your breakfast; this recipe is quick and savory. It requires 5 ingredients to complete, but you can add your own creativity by adding more. This dish consists of scrambled eggs, butter, and cheese. All of the ingredients are placed inside tortillas like a sandwich and cut into triangles. Make them as crunchy as possible.
9. Pulled chicken burrito recipe
This recipe does require more ingredients, but if you have leftover shredded chicken, you can use it. Because it will save you a lot of time, but if you don't have it, just rest to gather the beans, veggies, guacamole, and sauce. All ingredients should be sautéed before being combined with the chicken and wrapped. However, once you take your first bite, you will undoubtedly enjoy this food. If you like it, this is a good option for you. Instead of buying frozen or ordering from a restaurant, this recipe is more convenient for you because it yields more burritos for the whole family.
10. Shrimp tacos
Tacos are one of the most well-known uses for corn or flour tortillas. They can be made simply by spreading a tortilla and filling it with whatever foods you enjoy. In this case, we've cooked shrimp and topped it with vegetables, mayonnaise, lime, and sauce. Enjoy seafood on a soft tortilla and you'll never believe the tortilla makes a difference.
11. Nachos
I believe that everyone enjoys this appetizer, and if you've never tried it before, now is the time. Use ingredients that you already have in your pantry or leftovers from the refrigerator. All of those ingredients and spices will combine to make a delicious appetizer on the weekend while you relax at home.
12. Chicken tortilla casserole
It's a fantastic dish with tortillas and a lot of flavor. However, as you can see from the image, this recipe calls for approximately 20 ingredients. Layer tortillas and sprinkle with ingredients to make this dish. You'll end up with any dollop of this casserole when your stomach grumbles.
13. Flautas
Flautas are similar to tacos in that they must be perfectly rolled. So these are also known as rolled tacos, but apart from that, they are usually fried to get that super crispiness that is unique when frying corn tortillas. They, like most tacos, can be filled with a variety of ingredients such as potatoes, chicken, ground beef, and others. As a result, there is no reason to avoid these delectable meals. When you're in the mood for flautas, top them with lettuce, tomatoes, cream, and cheese to make your mouth water even more. You will never forget that flavor!
14. Ham salad tortilla pinwheels
This is an excellent bite-size appetizer for a party, picnic, or meeting. They have a classic flavor that almost everyone enjoys. Simply grab some ingredients from your kitchen or simply purchase, but it will fit any budget. So, if you want to prepare something simple, quick, and inexpensive, this is a great option for you. Plus the delicious flavor of using a burrito-sized flour tortilla.
15. Tostadas
Tostadas are a popular dish in Mexico. This recipe calls for open tortillas that have been perfectly fried, resulting in the crispiest tortilla possible. Over that long, crisp tortilla, spread primarily the beans, which serve as the foundation of this meal. Then, top with lettuce and tomatoes and cover with shredded chicken or ground beef. Finally, top with a spoon of cream and a drizzle of cheese. If you want it spicy, add some sauce.
I hope you can try one of these 15 recipes with tortillas. Enfrijoladas, entomatadas, tostadas, and nachos are among them. As a result, select the recipe that best meets your needs and preferences.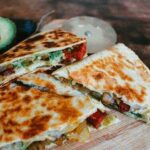 Print Recipe
15 Easy Recipes with Tortillas
If you're wondering what to make with tortillas, this article will help. Here is a list of 15 tortilla recipes that you will love after finishing this article.
Instructions
Cream cheese tortilla bites

Chicken tortilla casserole

Ham salad tortilla pinwheels
Notes
Calories were estimated using an online nutrition calculator. As a rough guide, it is not intended to replace the advice of a professional dietitian. The exact values can vary depending on the exact ingredients used.